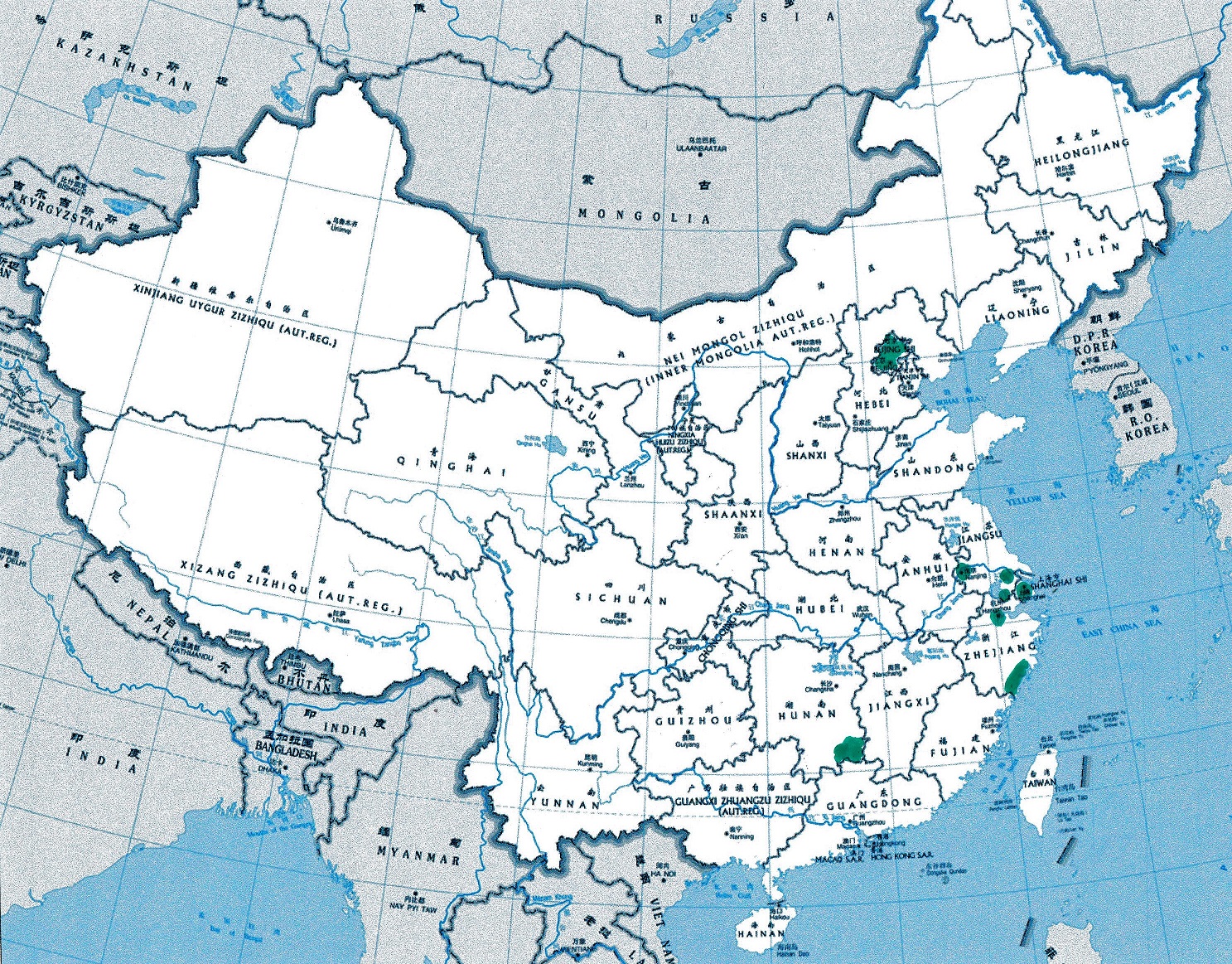 As one of the oldest theatrical genres, from the 17th to the 19th centuries, kunju developed its own sub-genres when travelling troupes performed in different areas. The map shows 8 professional kun theatre companies in different areas. They are: Shanghai Kunju Company, Zhejiang Provincial Kunju Company, Jiangsu Provincial Kunju Theatre, Suzhou Provincial Kunju Theatre, North Kunqu Theatre, Hunan Kunju Company, Yongjia Kunju Company and Kunshan Contemporary Kunju Theatre. They all share kunju's generic features but each of them also contains its own regional characteristics.
Kunju, also known as kunqu (the kun sung-verse) or kunqiang (the kun music), is one of the oldest theatrical genres in the xiqu form. Indigenous Chinese theatre has never separated itself from song and dance, and therefore the word for music/ sung-verse is almost synonymous with theatre.
In 2001 kunju was listed as one of the Masterpieces of the Oral and Intangible Heritage of Humanity by UNESCO.
Originally from the Kunshan area (currently part of Jiangsu province), kunju's history could be traced back to the folk music of the thirteenth century. This genre employed wind instruments: the di (bamboo flute) and the xiao (also made of bamboo, but held vertically). Its nickname "water-polished music" indicated its delicate and tuneful quality and the meticulousness of its creators.
Kun music had formerly been created for reciting poems. Scholars believe it is Wei Liangfu (c. 1489-1566) who should take the credit of developing a subtler and quieter style of dramatic singing tune by absorbing musical elements from other areas into the existing kunqiang. Since Liang Chenyu (c. 1520–80) and Wei worked together and used the new style in Liang's play Washing Silk (published in 1572), it quickly spread throughout China.
In the seventeenth and first half of the eighteenth centuries, the style was so popular that, according to one Qing scholar, "a five-year-old child [in its birthplace] could sing it", while "many Beijing locals [including the Manchu people] imitated the Kunshan dialect" in order to learn the songs and to be fashionable (although the two areas were about 800 miles apart and both had their own distinguished dialects). Having dominated both private and open-air performances for more than a century, the kun theatre started losing its popularity to younger and more vigorous theatres.
Kunju is one of the few old genres that uses "melodic models" (or qupai) throughout a play. Those melodic models were originally folk songs or chanted poems, and thus the titles often presented the original content of the lyrics. Those melodies were so beautiful that after generations and generations they remained while the content changed. Thus, in today's kunju, a title of the melodic model only indicates the melody itself without any connection with the lyrics. A melodic model is a fixed melody and prosodic pattern, and each pattern has a fixed number of lines, but these lines vary in length. In other words playwrights have strict prosodic rules to follow and have to think about both the meaning and the sound of the words that they choose to use.
When traditional Chinese theatre developed to the stage of kunju, all the aspects of the stage presentation, including the role types, songs, speech, music, costumes and others, became mature. Kunju is particularly famous for its beautiful combination of song and movement/ dance. It is believed that every word in a sentence in an aria is accompanied by dance. This explains why later and younger genres learnt from it. While some local genres simply kept the kun style in them (also see chuanju), in some areas kun transformed itself to suit the locals. As the map shows, there are now 8 kunju theatres/ companies in different areas in China, which all share certain general features of kun theatre but with its own alterations and characteristics.
从形成到占据剧坛中心地位的两百多年中,昆剧给予后来出现的各地方剧种很多影响,同时,由于流动戏班的演出,昆剧传入很多地区,受到当地的乡音、民间歌舞、地方戏乃至古老的声腔以及民俗风情的影响之后,新的昆剧派系就产生了。地图标志了当前8个专业昆剧剧团,它们是:上海昆剧团、浙江省昆剧团、江苏省昆剧院、苏州省苏昆剧团、北方昆曲剧院、湖南昆剧团(郴州)、永嘉昆剧团(温州)和昆山当代昆剧院。
昆剧,也称作昆曲或者昆腔,是戏曲中最古老的剧种之一。起源于昆山(今属江苏省)。2001年被联合国教科文组织列为人类口头和非物质遗产之一。
昆剧的历史可以追溯到13世纪昆山地区的民歌。昆剧使用笛和箫作为主要伴奏乐器,唱腔细腻婉转。明朝魏良辅(约1489-1566)记录元末曲家顾坚(1368年前后)首先创始昆山腔,现在普遍认为昆腔是在魏良辅吸收海盐腔和弋阳腔的音乐之后,影响逐渐扩大,当年有"水磨腔"之称。
昆腔最早是用来吟诗的曲调。魏良辅在他写的《南词引正》中指出,昆腔是元末顾坚所创始。目前学界和戏曲界普遍认为在明代嘉靖年间(1522-1566)魏良辅吸收海盐腔和弋阳腔配合传奇家梁辰鱼将昆腔曲调用在《浣纱记》以后,昆腔迅速向全国发展。
在17世纪和18世纪前半叶,昆剧非常流行。《苏州竹枝词》中《艳苏州》这样说:"……家歌互唱寻常事,五岁孩子识戏文",而北京一位文人感叹连京城的人都以昆腔以及苏州方言为时兴,诗云:"多少北京人,乱学姑苏语"。昆剧就这样把持了权贵富绅的小型和户外面向大众的演出达一个多世纪以后,终于被更为年轻的也更充满活力其他地方剧种所代替。
昆剧是当今使用"曲牌体"演唱的少数几个古老的剧种之一,曲牌是传统填词、制谱用的曲调调名的统称。由于曲调动听,后世将那些美丽的曲调筛选保留,依照原词以及曲调的格律填制新词。因此曲牌体剧种的剧作者必须遵循严格的词、曲的格律进行创作。
当中国传统戏剧发展到昆剧时,戏剧的各个方面包括行当、歌唱、念白、身段、舞蹈等等都已经发到非常成熟的阶段。昆剧尤其以"无歌不舞"出名。这就解释了为什么很多后来年轻的剧种都从昆剧那里学到各种表现形式。 有些剧种保存了昆腔及其剧目(参见川剧),在有些地区,昆剧向当地转型,成为当地的剧种。正如地图所显示的,目前中国有8家不同地区的昆剧院、团,不同地区的昆剧(如湘昆、永嘉昆、浙昆等)都具有昆剧的共同特点,但是也有各自的地方特色。