Chinese theatre is an exciting subject with dynamic complexities. Different theatre styles (see the diagram below) including Western-inspired spoken drama, the indigenous or traditional song-dance forms (including nearly 300 codified local genres) and other theatrical forms present daunting problems. Differences in language and culture raise barriers not found in dance and music.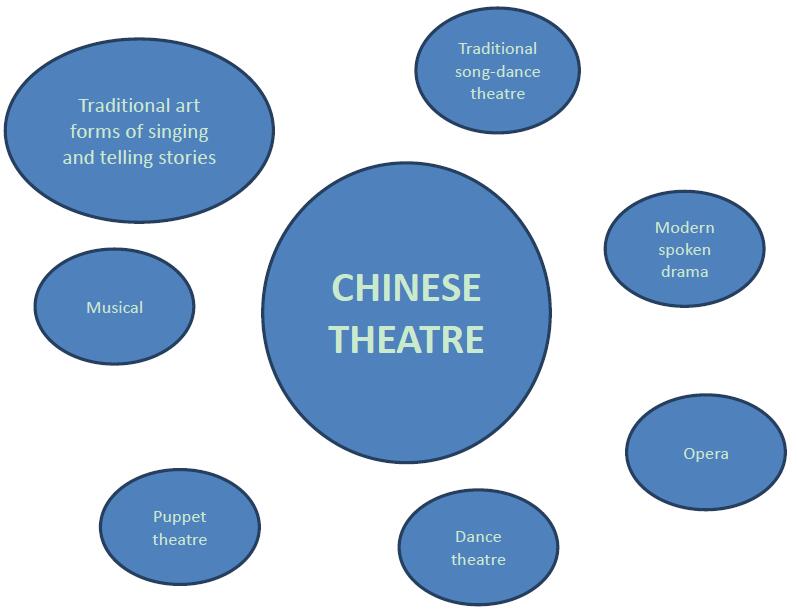 Compared to the increasingly successful discipline of Chinese cinema that emerged in the 1980s, primary sources in Chinese theatre are largely inaccessible for researchers, theatre practitioners and the general public. This pilot of the Digital Library of Chinese Theatre offered by 'Staging China' attempts to see if electronic stage productions with bilingual annotation/ critical essays would be useful for non-Chinese native speakers or Chinese speakers with limited knowledge of theatre to further a preliminary interest in the subject. The pilot mainly offers samples of the Western-inspired form of modern spoken drama and the indigenous/traditional song-dance theatre.
There are 4 main works in the pilot:
The Story of Gong and Drum Lane (spoken drama, bilingual-subtitled).
A scene from The Orphan of Zhao (yueju or shaoxingxi, one local genre in xiqu, the large family of the traditional song-dance theatre, bilingual-subtitled)

The Sun is Not for Us (2011 & 2012). This is a newly created work in English based on the stories of female characters in 4 canonical plays written by Chinese dramatist Cao Yu to commemorate the playwright's centenary. It was performed in Leeds, at the Edinburgh Festival Fringe and toured China.

A Midsummer Night's DREAMING Under the Southern Bough (2016). This production in English was co-produced by University of Leeds (UK) and University of International Business and Economics (China) to celebrate the 400 years of cultural legacy of two great playwrights: William Shakespeare and Tang Xianzu. The Chinese side adapted Shakespeare's A Midsummer Night's Dream, while the British group worked on a contemporary response to Tang's Nanke Ji. The young people's sensitivity and emotional expression were reflected in their interpretation of classics from each other's culture. It was performed in Leeds, at the Edinburgh Festival Fringe and toured China.

Each production contains its own available documents, such as programmes, critical reviews, images and so on.

Surrounding these 4 major productions, there are introductions to 1) huaju, the Western-inspired modern spoken drama and 2) xiqu, the indigenous/traditional song-dance theatre. In order to give viewers an idea of the large spectrum of different styles of xiqu (the Chinese song-dance theatre), a variety have been logged. Some are highly stylised while others are closer to everyday life, yet they still use songs as their means of expression. The pilot thus offers over thirty short clips of different regional genres: some of which are taken from the genres' traditional repertoire while others are from newly written plays. Even within the newly written plays, some are based on historical stories whilst others present contemporary lives on the stage. These short clips are provided with brief introductions to the genre[1] and the scenario of the play from which the clips are made.

For one of the core works The Orphan of Zhao, this pilot also offers short clips or still images of 11 different versions of the same play, among which some are in the huaju form, some are in the xiqu style, and one is a Chinese Western operatic adaptation. There are three non-Chinese productions from Nigeria (Drama Section, Ahmadu Bello University, 1979), Korea (Michoo Theatre Company, 2006) and Britain (Royal Shakespeare Company, 2012).

For those who want to read more research work on the Chinese theatre can see two attached documents. One contains books, articles, reviews, theatre productions and exhibitions during the last twenty years by colleagues who have closely worked with Staging China project since 2012. The other is a reference list compiled by Steven Siyuan Liu on the traditional song-dance theatre.

---

[1] The introduction to the genres are mostly based on Dictionary of Traditional Chinese Theatre and Folk Vocal Art Forms (Zhongguo xiqu quyi cidian), edited by Shanghai Arts Research Institute and the Shanghai Branch of the Association of Dramatists, Shanghai: Cishu Chubanshe, 1981.
中国戏剧是一个充满活力、具有无穷动态因而非常复杂的话题。各种不同的戏剧样式(参阅下面的图表)包括从西方引入的话剧、土生土长的戏曲(近300种不同的地方戏)、傀儡戏、歌剧、舞剧、音乐剧和各种曲艺说唱等等,种类之多令人惊讶。戏剧和语言相连,其中的戏曲还使用方言,这些都导致一些在视、听或研究舞蹈和音乐作品中所没有的困难。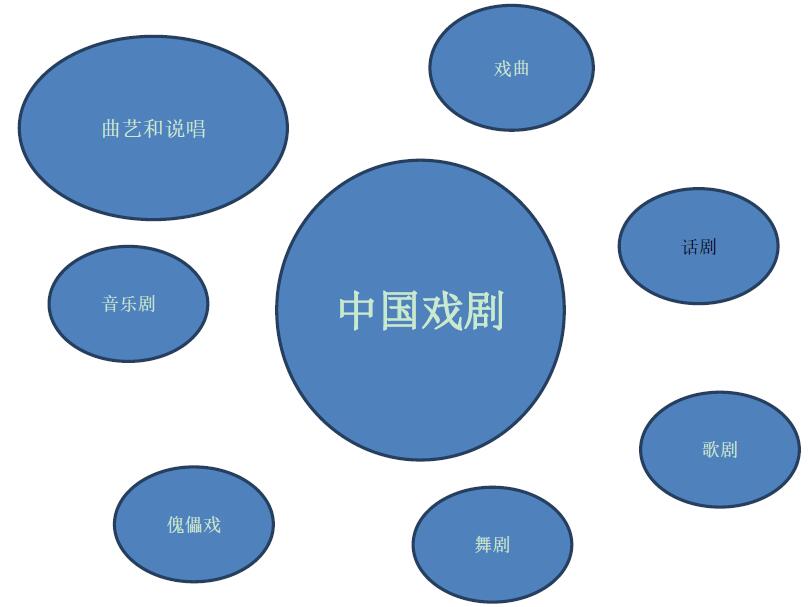 与20世纪80年代开始兴起并且蒸蒸日上的"中国电影"学科相比,海外的戏剧实践者、研究者以及普通公众很难看到中国戏剧的原材料。由利兹大学国际戏剧研究互联网项目"舞台中国"主持的中国戏剧电子资料库实验版本的目的,就是希望尝试是否可能通过网络,为一些视频加上双语的注解以及评论文章,使母语非华语的人了解更多中国戏剧的知识和形象资料,同时,也希望那些可能不很熟悉戏剧的华人使用者通过观看一些短小的戏剧作品而产生进一步了解中华戏剧的兴趣。中国戏剧广大无垠,本实验版只提供几部话剧和戏曲的实例。
以下四部为主要作品:
•话剧《锣鼓巷的故事》,双语字幕。
•越剧《赵氏孤儿》第4场 ,双语字幕。
•英语戏剧《太阳不是我们的》(2011年与2012年)。为纪念曹禺百年诞辰,利兹舞台巡演团以曹禺笔下的女性人物为主题,将《雷雨》、《日出》、《原野》和《家》重新串编出一部崭新的作品,在英国及中国多个城市巡演,并参加了爱丁堡国际艺穗节演出。中文字幕以PPT形式单独提供。
•英语戏剧《仲夏夜梦南柯》(2016年)。在"梦"的主题下,英国利兹大学和中国对外经济贸易大学联合,以合作与创新来纪念莎士比亚与汤显祖400年文化遗产。中方改编了莎士比亚的《仲夏夜之梦》;英方《梦南柯》则来自汤显祖的《南柯记》。21世纪青年人的思想和情感表达方式交叉地在另一种文化的经典作品中闪现了出来。在英国及中国多个城市巡演,并参加了爱丁堡国际艺穗节演出。中文字幕以PPT形式单独提供。
这四部作品分别都配备各种相关文件,如演出节目单,评论、剧本和照片等等。
环绕四部主要实例,我们提供了戏曲和话剧简介,分别由中国资深学者傅谨和陶庆梅撰写。为了令资料库实验版本使用者获得更多的戏曲知识,此版加载了数十个不同剧种的小片段,配以剧种和剧情介绍,希望使用者可以看到戏曲是一个非常宽广的"色谱",从风格、音乐、语言直到题材都非常不一样。其中一些剧种高度程式化,另一些则非常接近日常生活,但是即便这些作品,仍然以歌唱作为其主要表现形式。这些小片段,有些来自传统剧目,有些来自新编剧目,有历史剧也有现代剧。
在四部主要作品中越剧《赵氏孤儿》的周围,还有10部不同样式演出的视频或照片,其中有话剧、戏曲、一部歌剧和三部非华语作品,包括尼日利亚(贝洛大学戏剧部,1979年),韩国(美丑剧团,2006年)以及英国(皇家莎士比亚剧团,2012年冬令演出季)的演出。
希望获得更多关于中国戏剧资料方面的人可以使用本文的两个附录:一份是自2012年"舞台中国"国际互联网研究项目成立以来,积极参与工作的11位学者的研究成果(包括中、英文),另一份是加拿大英属哥伦比亚大学刘思远教授编纂的有关中国戏曲研究的英语书目。